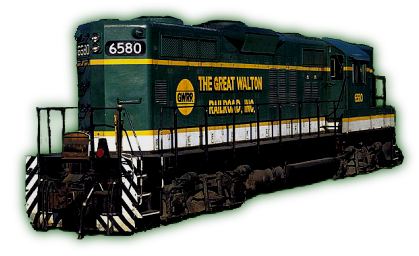 The Great Walton is a short line railroad company operating a 10-mile line between Monroe and Social Circle since 1987. The railroad's offices are in Social Circle.

The Monroe-Social Circle line was constructed in 1880 as the Walton Railroad. It later became a branch of the Georgia Railroad.

The Great Walton also operates the Hartwell Railroad and the former Norfolk Southern line between Toccoa and Elberton (built as Elberton Air-Line Railroad).

In December of 2001, the Great Walton leased from Norfolk Southern a section of former Central of Georgia track between Madison, Athens, and Center (a community in Jackson County). This is now operated as the Athens Line using Hartwell Railroad equipment.



Reporting marks: GRWR.
Copyright © 2009 Great Walton Railroad, Inc. All rights reserved.